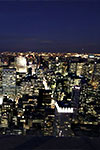 VIP Manhattan Nightlife & Speakeasy Limo Tour
Price from $ 163.80
Most visitors to New York can only dream of partying at swanky bars and clubs in Manhattan, but if you hit the town with our Manhattan Nightlife Tour their dream can be your unforgettable evening.

Highlights:
- Party like a VIP in New York City
- Cruise through Manhattan in a limo
- Enjoy sparkling white, white wine or beer in the limo
- Skip the lines to the hottest clubs and bars
- Visit rooftop bars, live music venue & clubs
- Enjoy a small, intimate group of max. 14 people

Party like a VIP in NYC
The night kicks off in Union Square where your limo driver picks you up along with 13 of your fellow party-goers and your host, a nightlife insider who is on hand to keep the party rolling and make sure you're enjoying yourself. In the limo you'll pop the bubbly and get to know each other so that when you pull up at the first venue you'll be ready to party like old friends.

The itinerary of this tour changes every time we run it in order to ensure that we're taking you to the best spots on a given night. We always choose three locations from a revolving list of rooftop bars, live music venues, and dance clubs. Because of our personal relationships with the doormen and management at these hotspots, you'll never wait in line or pay trumped up cover charges; just breeze in like a VIP and enjoy the drinks, the music, and the vibe.

When the clock strikes 12:30 AM our night ends, but yours doesn't have to. You are free to keep drinking and dancing at the last venue - usually a club - or get further recommendations for other bars and clubs in the area from your host.

How do I get my tickets?
Shortly after your booking is complete your e-ticket will be sent directly to your email, just print it out and bring it on your tour.
Where does the tour begin?
The tour starts at Union Square in front of Barnes and Noble. Please be there 15 minutes before the tour starts.
How long does the tour last?
The tour lasts 3.5 hours.
Is there an age limit?
This tour is strictly over 21 only. Guests are asked to carry identification at all times on the tour. Tour operator cannot be held responsible for entrance denied on the basis of no valid identification.

Is there a dress code for this tour?
Nightclub clothes are expected. No sneakers, sweatsuits, sleeveless shirts (men), baseball caps, or shorts. Additionally, at least one venue does not allow entry to any guests wearing fur.
VIP Manhattan Nightlife & Speakeasy Limo Tour Info
VIP Manhattan Nightlife & Speakeasy Limo Tour
Meet your guide in front of Barnes and Noble.
33 E 17th St and Union Square, NY 10003
Info
VIP Manhattan Nightlife & Speakeasy Limo Tour
The tour departs Saturday at 9 PM.
Directions
Directions
The closest subway station is Union Square Station.



View map