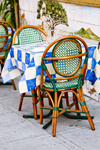 Bronx's Little Italy Tour
Price from $ 36.10
On the Bronx's Little Italy Tour you'll explore the exciting area between Belmont and Arthur Avenue in the Bronx. It's an area known for it's incredible food scene. Learn about the area's immigrant history and sample some culinary treat in the Bronx's Little Italy.

Highlights:
- Explore New York's culinary center
- Learn about the Bronx's fascinating immigrant history
- Try some of the area's best culinary treats in Little Italy

Get a Taste of Bronx's Little Italy
Explore Belmont and Arthur Avenue, known as New York culinary center with it's authentic Italian bakerys, butcher shops, fish market, specialty stores and more. Learn the history of Belmont and Fordham Road, learning how generations of Italian, Irish and other immigrants shape the history of the Bronx. Then you'll get to sample culinary treats in the Bronx's Little Italy.

After the tour we recommend that you end your day with exploring other areas of the Bronx such as The Bronx Zoo and the Bronx's Botanical Gardens.

The tour is operated in English.
How do I get my tickets?
Shortly after your booking is complete your e-ticket will be send directly to your email, just print it out and bring it on your tour.
Where does the tour begin?
The tour starts in front of Grand Central Station. Please be there 15 minutes before the tour starts.
How long does the tour last?
The tour lasts 2.5 hours.
Are there children's tickets?
Yes, children's tickets are available for children between 6-12 years old.
Bronx's Little Italy Tour Info
Bronx's Little Italy Tour
The meeting point is Grand Central Station. We'll meet by the entrance that is near the intersection of Park Avenue and East 42nd Street. This entrance is directly across the street from the Pershing Square Café.

Info
Bronx's Little Italy Tour
The tour operates Wednesday at 11 AM.
Directions
Directions
Click on the map below to see where Grand Central Station is located.



View map