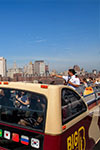 Big Bus Tours New York
Price from $ 45.50
Perhaps the most fun way to experience New York City is aboard a Big Bus Tour. Hop-on, hop-off at your leisure and see all the most famous and historic sights of New York City. An excellent way to get around town!

Highlights:
- Discover everything New York has to offer
- Choose between 1 or 2 day passes
- Get access to three or four loops
- Hop-on and off as much as you'd like
- Explore New York City at your own pace
- Sit comfortably on the Big Bus buses
- Choose between popular add-ons for Premium + Deluxe

Explore New York City with Big Bus
Experience the diverse culture, beautiful parks, stunning architecture and picturesque views atop an open air bus. These unique city tours stop at 35+ key points of interest all around spectacular New York City where you can hop-off and explore further on your own.

The Classic, Premium and Deluxe passes all give you access to the Downtown, Uptown and Midtown Loops. Heading Downtown you will see New York's famous landmarks; from Times Square to the Empire State Building and the world famous Brooklyn Bridge.

Going Uptown you will enjoy views of Central Park, Museum Mile and cultural Harlem including the famous Apollo Theatre.

The Midtown Loop connects East to West to help you discover Hell's Kitchen, the United Nations, Grand Central and the Hudson River at Pier 84.

The Brooklyn Loop is only included in the Deluxe Pass.
What's included?
A Classic 1 day pass includes three loops: Uptown, Downtown & Midtown.

A Premium 2 day pass includes three loops: Uptown, Downtown & Midtown + Harlem Tour OR Panoramic Night Tour OR Brooklyn Tour + Buy 1 hour bike rental, get 1 hour at Blazing Saddles.

A Deluxe 2 day pass includes four loops: Uptown, Downtown, Midtown & Brooklyn + 1 Hour Sightseeing Cruise OR Panoramic Night Tour + Statue of Liberty Ferry OR Empire State Building + Entry into the Museum of the City of New York + Buy 1 hour bike rental get 1 hour from Blazing Saddles

How do I get my tickets?
Shortly after your booking is complete your e-ticket will be sent directly to your email address entered at time of booking, just print it out and bring it to the first bus you take.

Where does the tour begin?
You decide where to start your tour. Just hop on the first Big Bus and start exploring New York.
How long is my ticket valid?

A Classic ticket is valid for 1 day and a Premium and Deluxe ticket is valid for 2 days.
How long does the tour last?

The Downtown Loop lasts 2.5 hours, Uptown Loop lasts 2 hours, Midtown Loop lasts 1.5 hours & The Brooklyn Tour lasts 1.5 hours.
How often do the buses run?

The buses run between every 15. minute and once an hour depending on the loop.

What language is the tour operated in?
There is live commentary in English and audio guides in Spanish, French, German, Italian, Portuguese, Japanese, Mandarin, Korean & Russian.
Are there child rates?

Yes, child rates are available for children between ages 5-15. Children under age 5 are free when accompanied by a paying adult.
Big Bus Tours New York Info
Big Bus Tours New York
Redeem your e-ticket on the first Big Bus Tour you choose.

Info
Big Bus Tours New York
The buses run between 8 AM and 6 PM depending on route and season.
Directions
Directions




View map